Universidad Nacional del Sur - Rectorado
August 23, 2010 |
---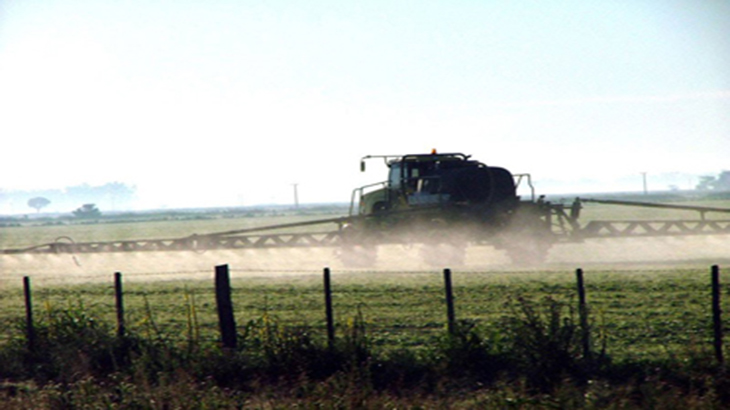 ---
---
Important researchers denounced the effects of the most used herbicide in soy cultivations. In some cities the justice banned the use of glyphosate next to towns. After going through the placenta barrier and increasing 4 or 5 times retinoic acid, this agro-toxic generates unwanted effects in pregnancy and increases the cases of leukemia in children, among other serious pathologies.
"If doctors from all over the country state and denounce that in areas where glyphosate is used there is a four times increase in cases of malformations, abortions, cancer and leukemia in children and young people, I cannot think other than they are delirious, that it is a conspiracy, or that they are lying", said Dr. Andrés Carrasco, chief of the Molecular Embryology Laboratory from the National University of Buenos Aires, who was interviewed by InfoUniversidades during a visit to the National University of the South.

Carrasco was one of the first Argentinean scientists which proved in laboratories the effects of glyphosate in animals. These effects were noticed when the agrochemical was used in the quantities recommended by their fabricants, but they also appeared in embryos exposed to doses up to 1,540 times inferior to the used in soy cultivations. In March, the Civil and Commercial Court of Appeals of Santa Fe limited the use of agrochemicals in a radius of 800 meters in the city of San Jorge, where there were made many denounces and it demanded that the State demonstrates that the liquid is innocuous for health.

The use of glyphosate modifies a substance which every human being has in the body and that accumulated or diminished produces alterations in the embryo, because it regulates morphology. "This substance -remarked Carrasco- is called retinoic acid and it must have an adequate level so that the vertebrate is correctly formed. There is a close relation between glyphosate and the alterations in the genetic mechanism of the developing bodies. This produces the lack of closure of the skull, hydrocephalus, myelomeningocele and all kinds of malformations which can cause different pathologies".

"It is an indisputable fact that when glyphosate goes through the placenta barrier and increases four or five times retinoic acid, produces malformations in the embryo. The mechanism which we were able to prove affects a restricted population: fertile pregnant women in rural areas. But glyphosate is also associated to a significant increase in the cases of leukemia in children younger than 15 years, among other disorders which our sanitary system has not studied in depth epidemiologically", sustained Carrasco.

The researcher's works began at the end of 2008. The results in vertebrates' embryos which were in contact with the herbicide were alarming: amphibians or chickens with malformations, due to the alteration in the levels of retinoic acid. There were also malformations in a 100% of the embryos which were born submerged in diluted glyphosate and between the 50 and the 70 percent in those injected with the herbicide. "The embryonary developing systems are very sensitive. In fact, this type of herbicides is a poison, even in low doses. What we were proving was the degree of poisoning of something we already know it's poisonous", he remarked.

"It not only produces effects in the embryos, but it also causes spontaneous abortions -ensured Carrasco-; by every malformed embryo there are many which do not reach even that. These problems have genetic explanations. It can happen because the genes are damaged or because the environment damaged it. Embrionary development is very sensitive in human beings, especially during the second and third weeks of the fetus formation".

Nowadays, there are other scientists groups which carry out similar investigations. In the National University of the Litoral it was evidenced that among the effects caused by glyphosate there are respiratory problems, damage to the central nervous systems and destruction of red cells in humans. And the death of the nervous cells that the cypermethrin (widely used insecticide in our country) produces in amphibious, one of the species exposed to ecologic risk. (see http://infouniversidades.siu.edu.ar/noticia.php?titulo=glifosato:_recopilan_casos_de_malformaciones&id=687 )

Glyphosate, transgenic soy and record harvests

Glyphosate is a herbicide active principle which blocks the activity of an enzyme without which plants can't live. It controls the weeds which compete with cultivations for vital resources such as light, water and nutrients.

Used in soy's sow it had a remarkable expansion with the apparition of the genetically modified variety of this cultivation in 1996. Transgenic soy, which is resistant to this agrotoxic, was a great advance to give one more step in the control of difficult weeds, such as sorghum alepense and gramon and to incorporate more hectares to agriculture. After replacing other herbicides it permitted a reduction of the production costs which boosted the growth of the harvest to record levels which added to direct sow had a multiplying effect.

In our country there are 20 million hectares of soy production, which use 200 million liters of glyphosate (element authorized by the Senasa), which is mostly sprayed by planes in cotton, soy and corn fields. It is estimated that the export of these two last will reach in 2010 60 million tons, a record number for production and tax income. In 2009, it grew in the world the number of cultivated hectares which grew from 125 to 134 millions, a 7 percent more than 2008.
Marcelo C. Tedesco
prensa@uns.edu.ar
Dirección de Prensa y Ceremonial

---
Related articles
El virus del Papiloma Humano (VPH o HPV en inglés) es una infección de transmisión sexual y el agente causal -en etapas avanzadas- de cáncer de cuello de útero en mujeres y, en menor medida, de pene en hombres. Este virus pertenece a la familia del Papillomaviridae y son muchos los tipos virales hasta hoy identificados, pero sólo una pequeña porción -aproximadamente 30 subtipos- son los que infectan al tracto genital y son capaces de producir lesiones que pueden llegar a desarrollar cáncer.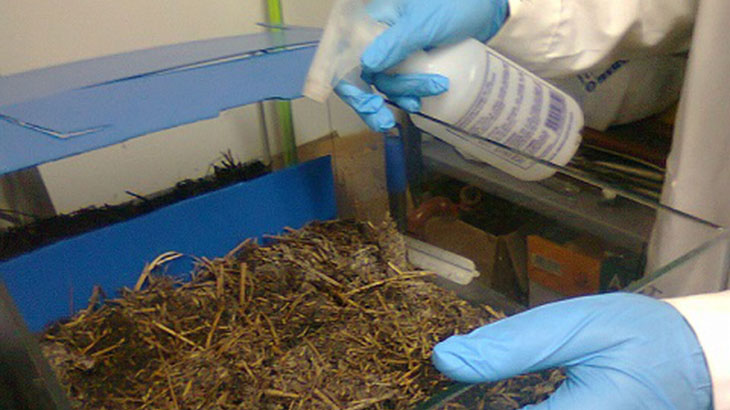 Ensayan una tecnología capaz de degradar agroquímicos utilizando el propio suelo y materiales de desecho. Permite tratar altas concentraciones, por lo que los investigadores apuntan a su uso en las operaciones de carga de pulverizadores.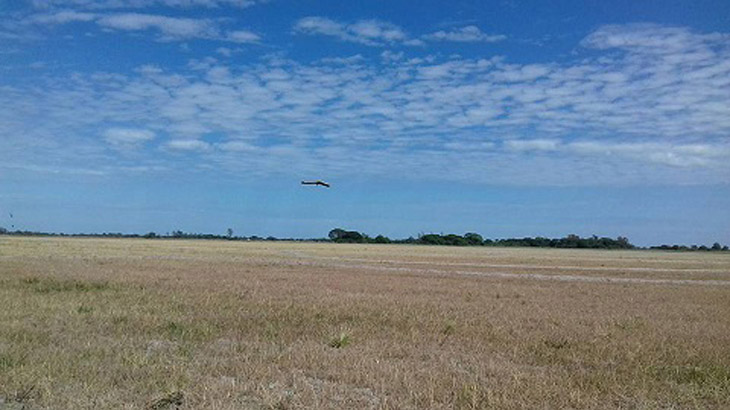 Un proyecto articulado de la Facultad de Ciencias Agrarias de la UNNE y el Ministerio de la Producción de Corrientes realiza ensayos con tecnología de dron en campos arroceros para identificar sólo los sitios específicos que requieren aplicación de herbicida contra malezas y evitar la aplicación en el total de la superficie del cultivo, como se realiza actualmente.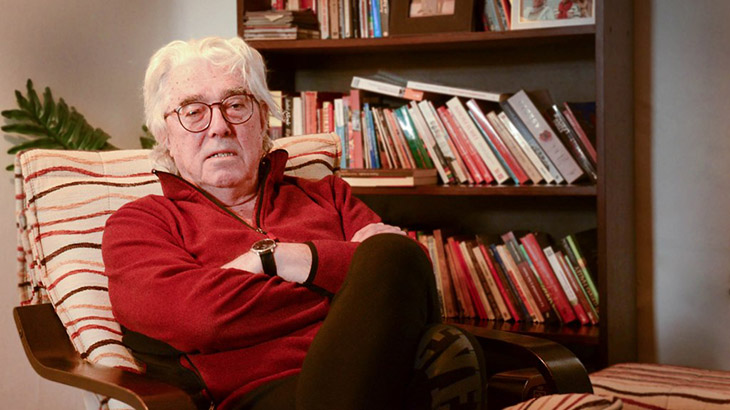 Dos proyectos de investigación de la Red Interuniversitaria en Ambiente y Salud de la Región Centro fueron seleccionados y serán financiados por el Instituto Nacional del Cáncer.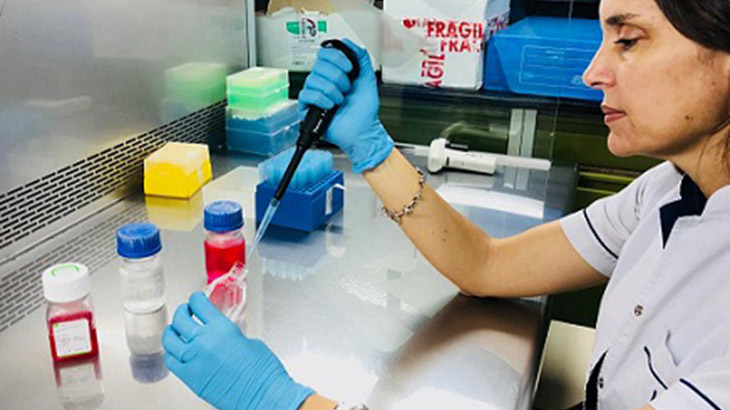 Una línea de investigación, aún en etapa preliminar, podría confirmar el efecto antitumoral de la yerba mate (Ilex paraguariensis). De ser así, sería la más importante de las numerosas propiedades protectoras de la salud que ofrece la planta y que han sido detectadas en diferentes estudios farmacológicos.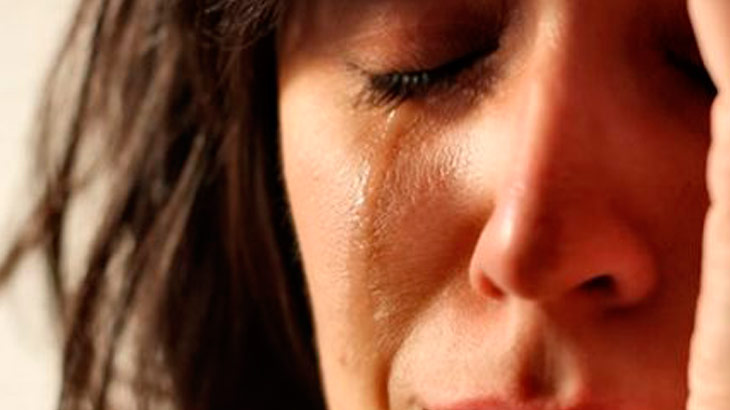 Una especialista realiza un repaso historico sobre el aborto en Argentina.