Universidad Nacional de San Martín - Escuela de Ciencia y Tecnología
June 29, 2015 | 18 ′ 44 ′′
---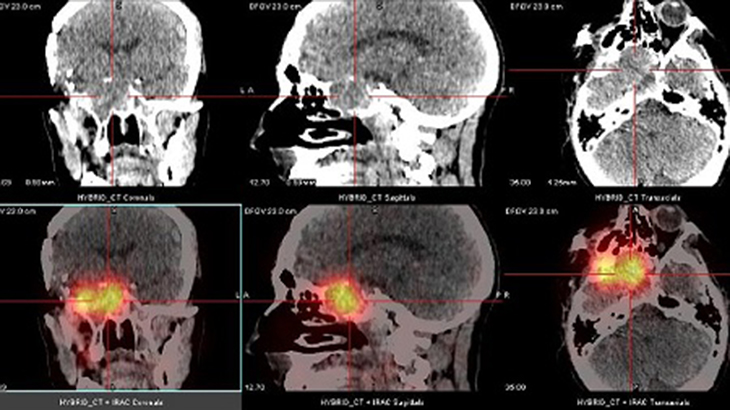 ---
---
The director of the area of Medical Physics of the Universidad Nacional de San Martín, Amalia Pérez, talked to Argentina Investiga about the relevance of this discipline in the field of health, the need of a regulation and to have more specialists. In Argentina "we would need no less than 60 recognized medical physicists" indicated the specialist.
Amalia Pérez reached medical physics "by chance" during her years of exile in Israel, where a compatriot incorporated her to his working team in the hospital of Beerseba, despite at that time "she didn't know that physics applied to medicine existed". Her presence in that health center encouraged her to be trained in the area. So much that, after some years, she took her experience to the department of Radioisotopes in the Universidad de la Vera Cruz in Mexico, and in the mid eighties she came back to Argentina to work in the National Committee of Atomic Energy (CNEA), where she developed applied research activities in the department of Medical Physics for seven years.

"At that moment the discipline was a pipe dream and just the CNEA with an avant-garde attitude in the topic generated a small department of Medical Physics and visualized the importance of physicists working in the topic. Out of the institution there was no field to talk about the importance or the need of physicists in the area, because everything pointed to doctors", remembers Pérez, who is now in charge of the area of Medical Physics of the Universidad de San Martín (UNSAM), where she coordinates four careers (BS in Medical Physics, Specialization in Nuclear Medicine Physics, Technical Degree in Image Diagnosis and BS in Image Diagnosis).

-How is medical physics perceived today?
-With time, publications appeared and evidenced that medical doctors' specialty is another one. So, they started to accept the presence of physicists in the area.

-Is this how regulations for the activity appeared?
-There have always been two nuclei related to the use of nuclear origin ionizing radiations, which are X rays or radioactivity, which includes gamma rays and alpha particles).">radiotherapy and nuclear medicine techniques. Regarding the first, in the nineties, the presence of physicists that had knowledge of this specialty faced with the Nuclear Regulatory Authority (in Spanish ARN) was demanded as a necessary condition so that a radiotherapy center could function.

-And regarding Nuclear medicine?
-In the past, we only worked with equipment called SPECT (single photon emission computed tomography), which works with one kind of isotopes. Then, PET (positron emission tomography) were designed, which work with different isotopes, more energetic, whose radiation emissions and damage potential are higher. That is why in this century, the CNEA accepted the presence of a physicist as a necessary condition to operate this equipment. Now we advance on the importance to have physicists in SPECT, because other novelties were produced.

-Like which ones?
-Both equipments do not operate on their own, but they come with an incorporated CT which corrects the images quality. But the CT is not nuclear medicine, but it irradiates x rays, so the patient receives more radiations. Things became more complicated because if the operator does not have knowledge about tomography or other variables intervene, even profit -like wanting to make many tests quickly- the patient receives very high amounts of radiation.

-How much does this happen?
-We know there are places in Argentina where people work badly. There is a study carried out by medical physicists in which they started to ask in PET services the doses given to the patients. Normally we can work with around 20 milisieverts, which is the unit that measures the dose of radiation. And they found from 12 to 53, that is, there is at least one service that instead of 20 is giving 50 milisieverts. These patients have more chances to have cancer than others. Now, once they develop cancer, the origin will not appear in any statistic, because it can't be proved. We have the obligation of not permitting this to happen.

-But, aren't there procedure regulations?
-We are making process and Argentina is pioneering in the topic, because one of the precepts of radiological protection has to do with the fact that the patient was exempt from the limits. That is, there are limits for the public in general, neighbors of the service, people accompanying ill people or health institutes' workers… But the patient wasn't, because the relation of the benefit of the diagnosis is considered. This started to be revised as image diagnostic methods grew.

-What are the obligations these days?
-Now it is an obligation to have a physicist in the PET, but we want to have one in the SPECT. It is true that the diagnostic power of this equipment is higher, but it has a cost, which is the dose the patient receives. So, techniques are developed so that those doses are as low as possible. But these techniques have to be known and applied in each case and that is why the physicist has to be present, not only to give his opinion, but also to make decisions. He has to be responsible for this.

-And they do not have it today?
-Physicists do not have decision power. It depends on the relation with the doctor: there are some of them who do not want to work without physicists and some others who prefer avoiding them… There are big variations, but from a formal point of view, the person responsible before the ARN is only the doctor. In the practice is usually happens that, if there is a good relationship. The doctor listens to the physicist. The problem is when there are conflicts.

-How are situations solved in those cases?
-The physicist has no power. He just has responsibility at radiological protection level. For example, if a technician or someone in the service irradiates more than the accepted level, the physicist is responsible. One of the things we have been trying to encourage for many years is that, like in the rest of the world and the International Labour Organization, the medical physicist is considered as health staff.

-What guarantee do medical physicists have nowadays?
-We have a strong support of the ARN. Not any physicist can be responsible in those health services. We are a few in the country, around 20 recognized medical physicists in the area of nuclear medicine and in radiotherapy there are more, but there is a strong demand and that is a serious problem. Short ago I read in a publication of the sector that in Latin America we should multiply 2.5 the number of medical physicists to reach an acceptable level. If that was applied to Argentina, we might need at least 60 recognized medical physicists. That is why we want to encourage young people to study this discipline.

-How many PET are there in Argentina if they are barely 20 specialists?
-There are more, but physicists work part time and rotate. Conversely, the services might not be opened and the regulatory authority knows it.

-So, if you also demand medical physicists in SPECT, how can you cover the demand?
-Well, this is one of the reasons of those who disagree, but they said the same 20 years ago, when we wanted a physicist in the PET. It was even worse and at one moment we were only two medical physicists. If it is not obligatory it is difficult to achieve it, because there are a lot of people who still does not know what is medical physics.

-Physics is already considered a difficult career…
-There are prejudices. Of one thousand teenagers that finish high school, there is just a small group that likes physics and of that group, some of them have to be interested in medicine; so, just a few remain. That causes little groups of students and that is why we try to encourage the career with scholarships and other facilities.

-How many students graduate every year?
-Just a few, whereas Argentina needs no less than 10 per year and it doesn't happen. To guarantee 10 graduate students we need no less than 30 every year, because many leave. It is a vacant career and it does not receive the necessary help.
unsamcarga
Vanina Lombardi de Agencia TSS

---
Related articles
El virus del Papiloma Humano (VPH o HPV en inglés) es una infección de transmisión sexual y el agente causal -en etapas avanzadas- de cáncer de cuello de útero en mujeres y, en menor medida, de pene en hombres. Este virus pertenece a la familia del Papillomaviridae y son muchos los tipos virales hasta hoy identificados, pero sólo una pequeña porción -aproximadamente 30 subtipos- son los que infectan al tracto genital y son capaces de producir lesiones que pueden llegar a desarrollar cáncer.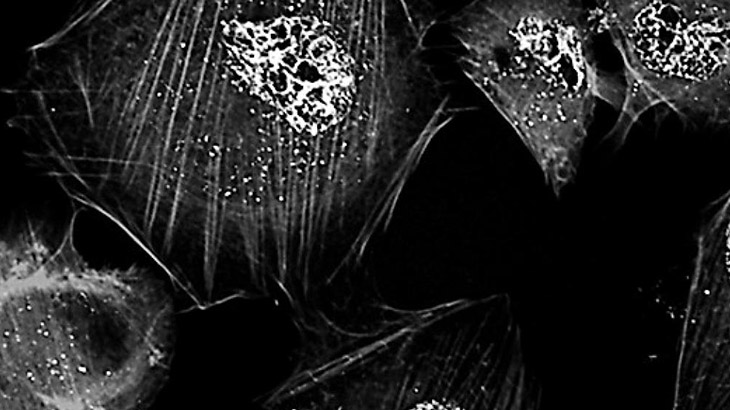 Se probaron con éxito en cultivos in vitro de glioblastoma multiforme, uno de los tumores cerebrales más comunes y letales que se conocen. Se trata de partículas multifuncionales, 10 mil veces más pequeñas que un cabello humano, que pueden viajar dentro de células de la sangre y transportar cualquier tipo de fármacos. Actúan con alta precisión y no provocan los efectos secundarios nocivos de las terapias actuales. Investigadores viajaron a España para realizar ensayos en ratones en un centro de alta tecnología.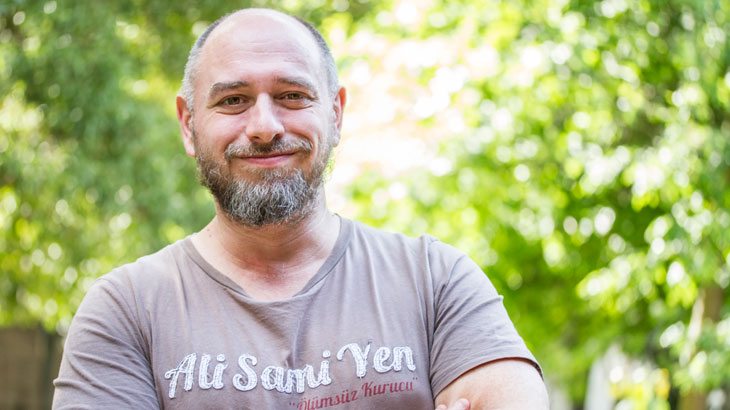 El investigador Jorge Montanari cuenta cómo el empleo de estructuras diminutas podría mejorar los tratamientos de pacientes con cáncer de piel y Leishmaniasis.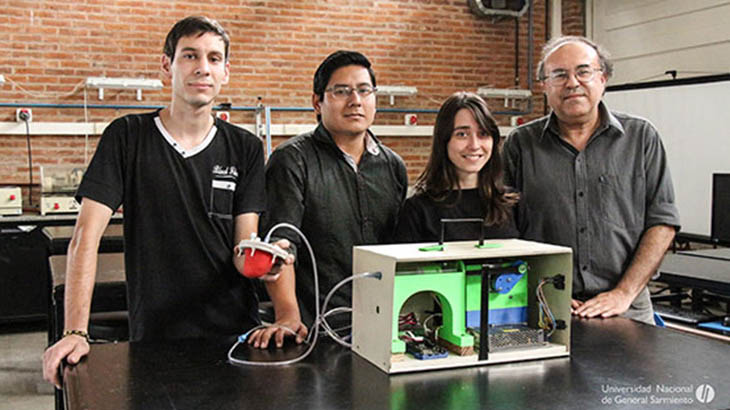 El área de Ciencias y Tecnologías Básicas del Instituto de Industria de la UNGS desarrolló un nuevo dispositivo para la medicina nuclear. Se trata de Sonqo, que simula los latidos de un corazón humano, es rojo, elástico y tiene el tamaño de un puño cerrado.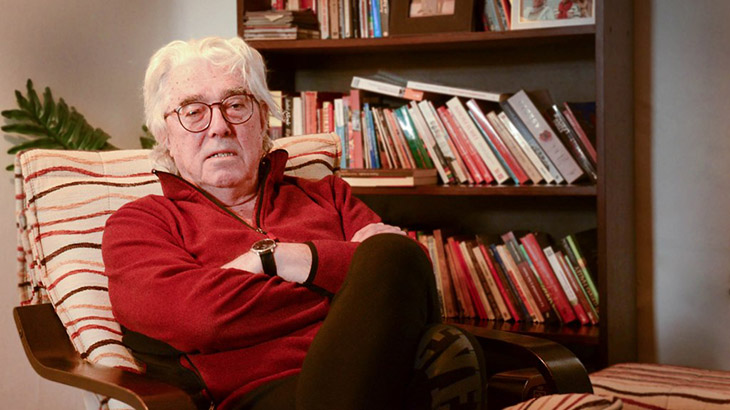 Dos proyectos de investigación de la Red Interuniversitaria en Ambiente y Salud de la Región Centro fueron seleccionados y serán financiados por el Instituto Nacional del Cáncer.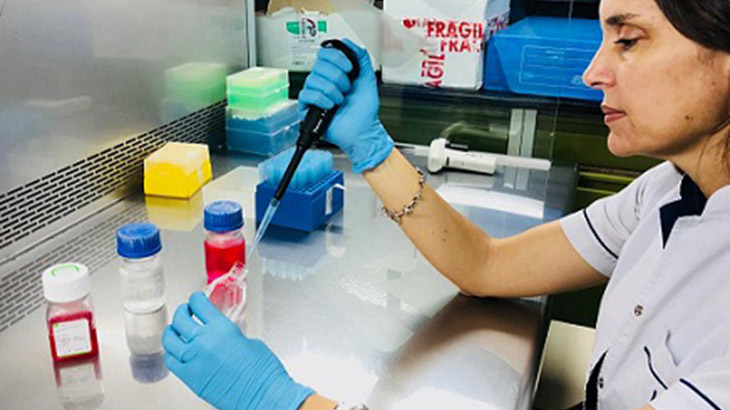 Una línea de investigación, aún en etapa preliminar, podría confirmar el efecto antitumoral de la yerba mate (Ilex paraguariensis). De ser así, sería la más importante de las numerosas propiedades protectoras de la salud que ofrece la planta y que han sido detectadas en diferentes estudios farmacológicos.